As the grand celebration of American Independence Day approaches, it's the perfect time to reminisce about the glorious history of our nation, while also embracing modern innovations that make our lives more convenient. This year, let's combine the spirit of Independence Day with the remarkable features of the W100 Cordless Vacuum—a truly revolutionary cleaning solution!

Revolutionizing Cleaning with the W100 Cordless Vacuum:
Flexible Heads and Maneuverability:
A standout feature of the W100 Cordless Vacuum is its flexible heads and incredible maneuverability. Equipped with swivel steering, this vacuum effortlessly glides around furniture, reaching even the trickiest corners and crevices that often give us a headache during cleaning. Its flexibility means you no longer have to struggle with moving heavy furniture or bend down to reach beneath low-lying spaces. With the W100 Cordless Vacuum, cleaning becomes a breeze and leaves you with more time to enjoy the Independence Day festivities.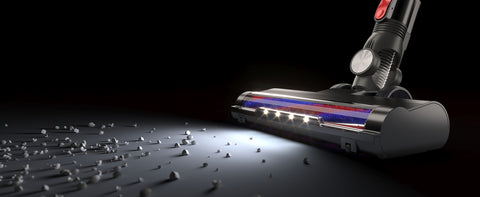 Wall-Mounted Design:
Another impressive aspect of the W100 Cordless Vacuum is its wall-mounted design. This innovative feature allows you to easily store and access the vacuum whenever needed. By simply mounting it on the wall, you can save valuable floor space in your closet or utility room. Additionally, having it prominently displayed encourages regular cleaning and saves you from the hassle of searching for a misplaced vacuum. The W100 Cordless Vacuum's wall-mounted design is a convenient addition to your home that brings both practicality and style.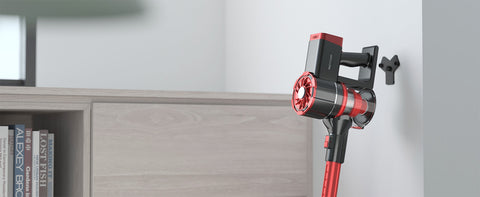 One-Click Button Emptying the Dust Cup:
Say goodbye to the inconvenience of traditional vacuum dust cup emptying methods. The W100 Cordless Vacuum introduces a one-click button emptying system that lets you effortlessly dispose of dirt and debris. No more dirty hands or struggling with clumsy mechanisms – just press the button, and the dust cup releases its contents into the trash can. This user-friendly feature saves time, minimizes mess, and ensures a more hygienic cleaning experience.
 
Large Capacity and Detachable Battery:
With its large dust capacity, the W100 Cordless Vacuum can handle extended cleaning sessions without frequent interruptions. The spacious 1-liter dust cup ensures you can clean more and empty less often. Additionally, the vacuum's detachable battery offers convenience and flexibility. Once the battery runs out of power, simply detach it and replace it with a fully charged one from the backup. No more waiting for hours for the vacuum to recharge – keep moving with uninterrupted cleaning power throughout your Independence Day preparations.
 
This Independence Day, let the W100 Cordless Vacuum become your loyal companion in your quest for a cleaner and more comfortable home. Its revolutionary features seamlessly blend with the spirit of the American Revolution, bringing both efficiency and freedom to your cleaning routine.